Queensbury Cigar & Pipe
1036 Route 9
Queensbury, NY 12804
(518) 636-3308
Hours: Monday to Wednesday 9 AM to 9 PM
Thursday 9 AM to 10 PM
Friday 9 AM to 9 PM
Saturday 9 AM to 10 PM
Sunday 10 AM to 8 PM
Lounge website: https://queensburycigarandpipe.com/
Retail website: https://www.cupojoes.com/
Bottom Line: Queensbury, New York features a beautiful cigar and pipe shop. It has a fabulous lounge area, which is the highlight of the shop. A must try location whenever you are in the region. Touted as "the largest cigar and pipe lounge in Upstate New York."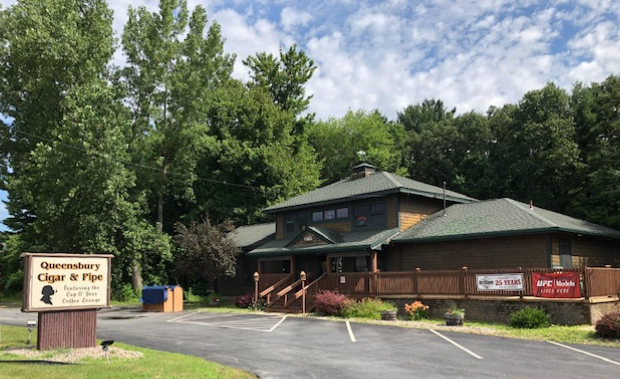 Recently, I was traveling through the southeastern Adirondack Mountains and found myself in the Lake George, Queensbury, Glens Falls, and Saratoga region. I previously entered the location of Queensbury Pipe and Cigar into my GPS. I was surprised when it announced I was approaching my destination a little earlier than expected. When I last visited, the shop was located in a strip plaza further down the road. But they moved to this new location in 2012. To my delight, a prominent looking stand-alone building with a large parking lot and a deck peeking out from the right backside of the building greeted me. I turned in excited by what was waiting for me, not expecting this new location.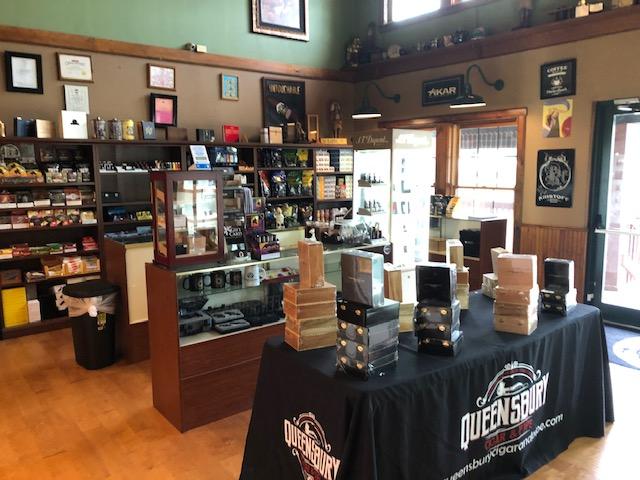 I walked up to the steps and entered the building and found myself standing in the main retail space of the building. The front wall before me was a cabinet full of cigars, with cigars and merchandise on the wall to my right. To my left was a large walk-in humidor, packed with cigars on each wall and at a center island. Queensbury Cigar and Pipe has an excellent selection of cigars from Ashton, Avo, Camacho, Davidoff, Montecristo, Perdomo as well as many other brands. You will not have trouble selecting a handful of cigars.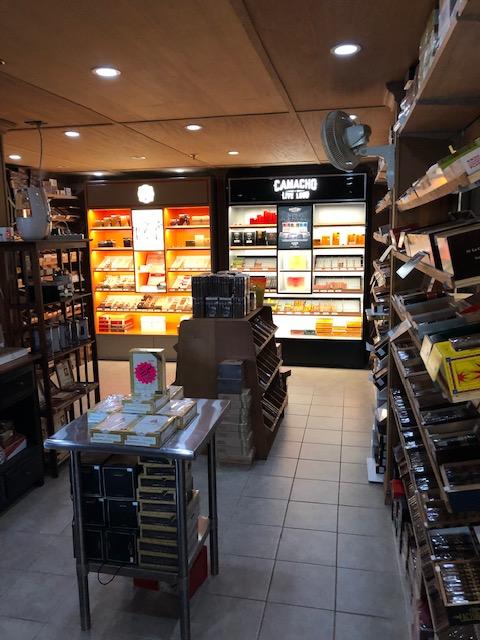 The staff was knowledgeable and helpful without being overbearing. Even when I was less than clear about what I was looking for, the young man behind the counter did everything he could to accommodate my search.
Not knowing much about pipe smoking, they appear to have an excellent selection of pipes (several hundred!), pipe tobacco and pipe smoking accessories. If you are a pipe smoker, I doubt you will be disappointed with their pipe room.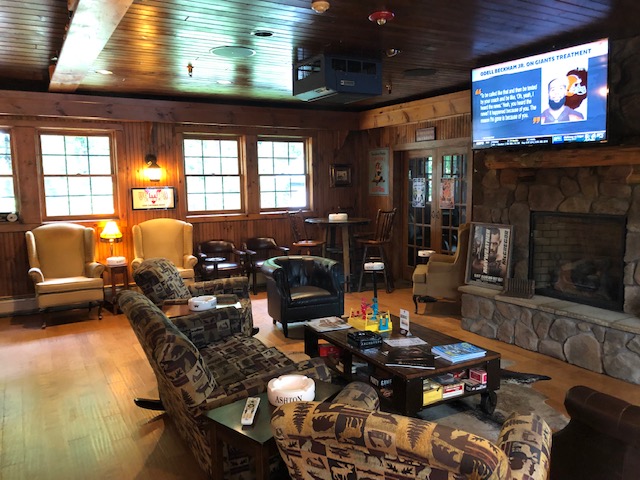 The real surprise though, came when I stepped into the back of the building to the lounge area. Your first impression, appropriately enough, is the area's similarity to an Adirondack cabin or ski lodge. To your left is a large coffee bar, featuring excellent coffee, eight swivel bar stools, displaying the and a tv screen facing you. The room opens up to the lounge area, which has comfortable seating and a high top table from which to enjoy coffee, good conversion, and ample space to work. It is also a nice place to roost. Mounted above the fireplace is a large screen tv, the central point of the room. Two large ventilation units are mounted on the ceiling to clear smoke from the room. To the right, you can view the outdoor deck. Beyond the main lounge is the member's lounge.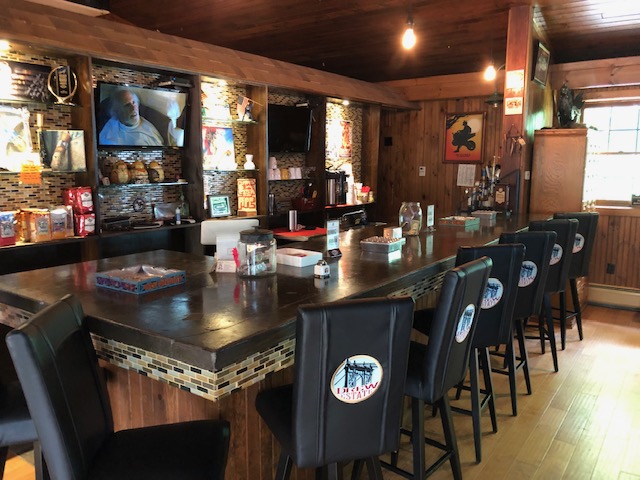 The member's lounge features DreamSeat's RelaX recliners proudly displaying the Montecristo logo. A large screen TV is over the woodstove, while a Rabbit Air unit keeps the atmosphere fresh and clean. The member's lounge is smaller than the main common area, but the atmosphere continues to feature wood facings throughout with a stone insert for the woodstove. This room is a very comfortable area to put your feet up and relax. Prices for membership are exceptionally reasonable, and cigar lockers are available.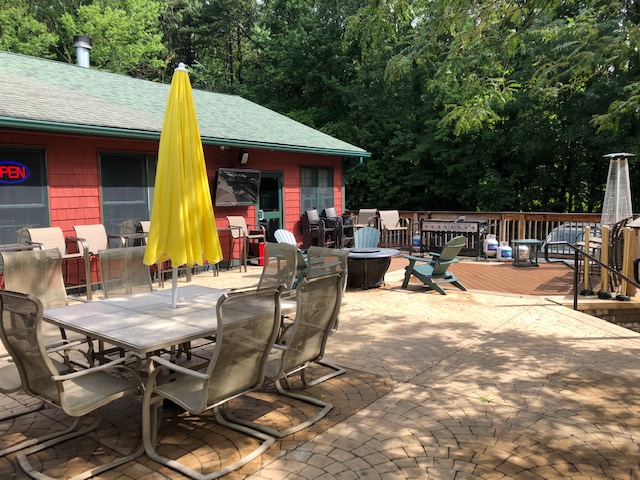 The main lounge exits out to the southeast side of the building, where you will find a large outdoor deck to relax in the beautiful weather with a cigar. Mounted on an exterior wall is a large screen tv in a weather-protected case for outside viewing – table and chairs with umbrella's feature a shady place to congregate with friends. Deck chairs provide a comfortable outdoor experience. There is a fire pit to enjoy a fire on chilly evenings and a bbq grill for special events.
The lounge hosts regular events, including pay-per-view United Fighting Championship events on their screens. Typical entry cost for these events is $30 and includes a cigar in the admission price. They also frequently host distributor events, which include discounted items on some of that manufacturer's cigars and allows you to speak with the distributor.
Their website https://queensburycigarandpipe.com/ provides information on their events, lounge, and the member's lounge. Their e-commerce website is cupojoes.com, which features their entire line of cigar and pipe offerings, as well as coffee. Cigars are available as singles or by the box. They offer free shipping for orders over $95 and ship worldwide. You can also subscribe for their upcoming specials and sales delivered right to your inbox before they hit the store shelves. For pipe smokers, they currently have an excellent selection of discounted pipes in their "Bargain Bin," definitely worth watching.
The Queensbury Cigar & Pipe is an outstanding shop and lounge. A cigar or pipe smoker will not be disappointed.
Yelp lists Queensbury Cigar & Pipe as a five-star establishment with eight reviews.