Shape: Robusto
Size (length x ring gauge): 5.0" x 50
Country: Honduras
Wrapper Origin: Ecuadorian
Wrapper Leaf: Connecticut Shade
Wrapper Color: Natural
Filler Origin: Honduras
Binder Origin: Honduras
What the pros say: The C. L. E. Connecticut is hailed by most bloggers as an excellent smoke, well worth trying and having in your humidor.
Bottom Line: A must try smoke that you will be pleased with.
Brief Summary: A handsome cigar, packaged nicely with tissue covering the foot of the cigar up to the bottom of the cigar band. But this cigar does not rely on looks alone. It is wonderfully smooth and creamy which causes me to rank its strength as mild/medium rather than the medium strength as stated by the manufacturer and most outlets. As I was not familar with the C. L. E. brand, I was pleasantly surprised with how delightful this cigar tasted and smoked. Even and slow burning, it held it's ash and required no relights, especially after a longish interval. I will definately be stocking my humidor with this tastey stick, and you shouldn't duck it either.
Flavors Touted: roasted nuts, cream, leather, spices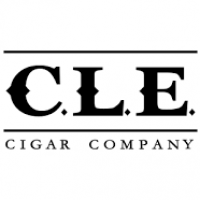 About C. L. E. Cigars: Christian Luis Eiroa (C. L. E.), was formerly the president of Camacho Cigars, returned to his roots of growing tobacco and making cigars. His family had long been growing and curing tobacco but he pursued an education in international business. After school, he returned to the family business with no intention of staying permanently but ending up utilizing his education to grow within the tobacco industry. Combining his knowledge of tobacco and his business acumen, he formed C. L. E. Cigars in 2012. His company also boosts the Asylum, Eiroa and Wynwood Hills brands.